FOR CHILDREN 5+        Family friendly
Authors and Performers
Florent Golfier, Lukáš Karásek
Dramaturgical cooperation
Marek Menšík
Set design
Marie Gourdain
Light design
Zuzana Režná
Music
Matouš Hejl
Technical cooperation
Šimon Janíček, Jakub Ryvola
Acrobatic Collaboration
Stephanie N'Duhirahe
Production
tYhle
Special thanks to
Pierre Nadaud
Thanks to
Eliška Brtnická, Prokop Vondruška, Dominique Rebaud, Petra Kateřina Bučková
Duration
35 minut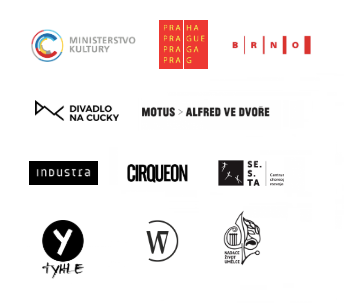 Two performers versus one strange object with rungs and stringers.
We imagine world as a place where everyone has his own ladder, steps and it depends on each of us, how far we can get.
Physical theatre with pair of performers Florent Golfier and Lukáš Karásek (tYhle) and two strange objects with rungs and stringers. They try to the top, but the outcome is uncertain: they chase after the vague possibility that it will be better up there, their
movements more relaxed and their minds freer. The biggest obstacles are gravity and the foolish spontaneity of both characters. What can we do by ourselves and where do we need help and cooperation? And when can the collaborator become an obstacle on our way in achieving the goal? A goal, that …. exist? if you're going to reach higher, then at least by the most convoluted route possible!