derniere
Direction
smrt autora
Choreography
Markéta Vacovská, Miřenka Čechová
Music
Sára Vondrášková
Interpretation
Markéta Vacovská, Miřenka Čechová, Sára Vondrášková
Mental couching
Petr Boháč
Light design
Pavla Beranová, Jiří Šmirk
Comstumes
Petra Vlachynská
Sound consultation
Martin Tvrdý
Photography
Vojtěch Brtnický
Production
Bára Repická
Production for tours
Tereza Havlíčková
PR manager
Eliška Mikovcová
Co-production
Tanec Praha z.ú. / PONEC – divadlo pro tanec, Hessischen Staatsballetts Darmstadt


Supported by
Hlavní město Praha, Ministerstvo kultury ČR, Státní fond kultury ČR, Česko-německý fond budoucnosti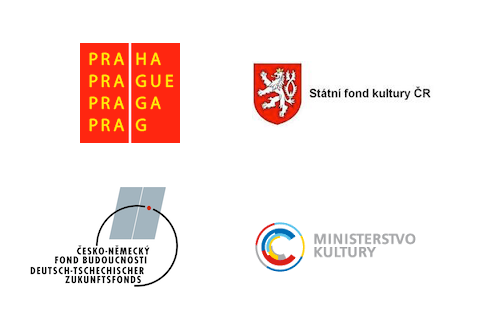 Spitfire Company projects are for years 2018-2020 supported by multi annual grant of Capital City of Prague in amount od 1
400 000 CZK.
 
Only some God can save us," said one philosopher before his death without adding what that savior God would look like. Will the God be male or female? Will he or she be ugly, beautiful or without features? Will he or she come and have a baby smile on his face? Or will he or she appear in the form of a disaster, a devastating tsunami? Will he or she boldly prophesy, whisper or be silent? And does one even want to be saved? And from what or from whom? From oneself? Is salvation possible at all without a rebirth? And what should such a rebirth look like? Will a ritual sacrifice be required?
A flash. My son looks to the sun and I with him. A flash. Each of us sees something different. Slight horror causes anxiety in the form of a greedy bear's mouth. What if there is an eclipse and it will go on forever? A flash. A ritual murder is necessary to free the spirit.
A flash. Empathy! Feeling! Dance of the evil Kukeri creatures who protect the dreams of young children. A flash. Life is a mere prefix to another state of being! A flash. It is not necessary to understand but to believe.
Performance contains nudity.
---
Read a short interview with director Petr Boháč:
The third part of Constellations III is called My Son Looking to the Sun. Can you talk about how the motif of the child figures in the performance?
I can't explain this, because every time I try to grasp it rationally, I find myself on the thin ice of banality. And I reject this. But I feel that Miřenka, Markéta and Sára have done something that carries the essence of a subtitle. You have to ask them. Anyway, it can be read as if it is all about our children and we too are children. Perhaps we are experiencing a dream of us watching the sun in an eclipse, gazing into a black abyss that for one person is terrifying and for another a miracle.
You've recently experienced a big change in your private life, as your child was born. How did this translate into the process of creating the final episode of the trilogy? Has your original artistic intention changed?
If you read the credits carefully, you will find the director line and next to it Death of the Author. My original intention has changed so much that it will not be implemented at all, and yet I don't feel that the girls have turned away from my intention. In fact, they offered me a more radical form of my thinking, and I had to leave the rehearsal room and never returned to it as a director.
Having concluded the trilogy do you have a sense of completion? Or is something left unfinished and can we look forward to an epilogue?
There will not be an epilogue. The feeling that something has been left unsaid remains. But the constellations have come full circle.
I have found that I cannot escape my thinking, that it will always catch up with me. Therefore, in the future trilogy, I will return to what is closest to me, to the overlap, to what exists beyond, which from one point of view can be viewed as a radical presence and from another as extreme corporeality. I wonder how far art, dance can go? I am internally determined to touch the limits.
There was a distinctive music component in every part, whether live music by the BERG Orchestra or Martin Tvrdý. For this production you chose Never Sol, a singer and songwriter with a melancholic voice. What was it about her that inspired you?
Sára inspired me by offering me a concept without a voice, which means something completely different from how you describe it. As
I mentioned, all three performers chose a radical approach. And I really appreciate that. Is the performance dance or rather movement? In contemporary dance you can't really pose the question in this way. Who can decide what is dance and what is movement? In our case it is a complex experience, an attempt at ritual. Forget about dance. Forget about movement. And come see us.