Created by:
Cécile Da Costa
Performing:
Cécile Da Costa
Directorial cooperation:
Dominika Špalková
Scenography and costumes:
Petra Vlachyňská
Light design:
Jiří Šmirk
Music:
Jan Šikl
Producer:
ProFitArt
Co-producer:
Studio Alta
Supported by:
Ministry of Culture of the Czech Republic, Magistrate of the Capital City of Prague, State Cultural Fund of the Czech Republic, Foundation Život umělce, Drak Theatre, Cirqueon, Uhelný mlýn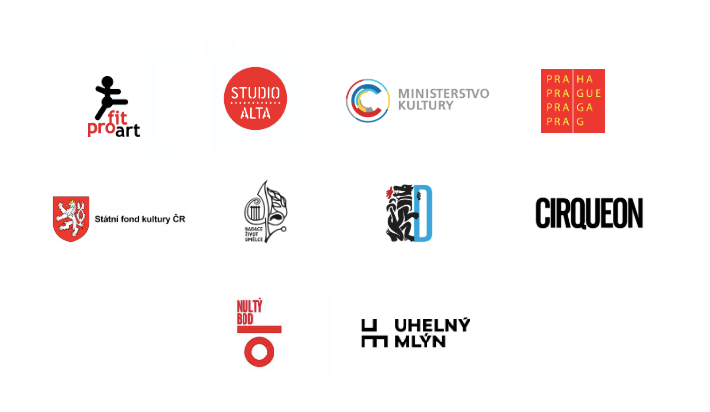 Duration:
45 min
WATCH DANCE AT HOME
Stream this week's performance and enjoy a dance experience from the safety of your home while supporting artists who are unable to work right now! Watch the recording here: ​
HOW TO SUPPORT US?
During the webcast, you will be able to express your support for the dancers and their teams by donating any amount on these platforms:
→ DONIO.CZ
You can also contribute at any other time! And you can help us by sharing this event with your friends.
WHO WILL YOU BE HELPING?
Freelance artists, which means everyone who works with us and not only creates dance art for you, but also teaches dance and movement education in schools, leads secondary studies for children, seniors and adults, or teaches at elementary schools. All these activities were suddenly cancelled without any right for compensation. Without you, the consequences of the state of emergency could be terminal. The contemporary dance scene needs you!
ABOUT THE PERFORMANCE
Roselyne is searching for her place. She wishes to be invisible. She does not want to disturb. She doubts. She always hides behind something. She found a plant.
Roselyne could be a reflection of our doubts, the decisions we did not take, the possibilities we did not enjoy. She is perfectly imperfect, like the rest of us.
"I feel guilty. I don´t remember why. Maybe I did something wrong or something not good enough or something I should have done and I did not do. Maybe the guilt was here before me. The worst is not to feel guilty, the worst is to try to remember why."
Special thanks to all the women who supported me one way or another during the creation and who are here simply around with their generosity and their kindness. 
Eva Michková
Kristýna Mariae
Renata Balko
Kateřina Tetivová
Magda Marková.
Kristýna Dvouletá