Concept,choreography, performing
Johana Pocková, Sabina Bočková
Music
Lukáš Palán
Dramaturgy
Viktor Černický
Light design
Eliška Kociánová
Co-production
Tanec Praha. z.ú.
 
Supported by

Partners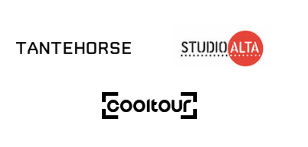 WATCH DANCE AT HOME
Watch stream this week's performance and enjoy a dance experience from the safety of your home while supporting artists who are unable to work right now!
Watch here:
HOW TO SUPPORT US?
During the webcast, you will be able to express your support for the dancers and their teams by donating any amount on these platforms:
→ DONIO.CZ
You can also contribute at any other time! And you can help us by sharing this event with your friends.
WHO WILL YOU BE HELPING?
Freelance artists, which means everyone who works with us and not only creates dance art for you, but also teaches dance and movement education in schools, leads secondary studies for children, seniors and adults, or teaches at elementary schools. All these activities were suddenly cancelled without any right for compensation. Without you, the consequences of the state of emergency could be terminal. The contemporary dance scene needs you!
ABOUT THE PERFORMANCE
The Lion's Den started as an performative research on media, political populism and their manipulative powers. Two performers are becoming the embodiment of physical and visual images inspired by the media space. In their unceasing duet, together with the audience, they fall into a symbolic lion's den, opening an abyss of uncertainity.
In their new piece, Sabina Bočková and Johana Pocková balance on the borders between entertainment and perversity. They travel from manipulating the audience to self manipulation, oscilating  between the roles of leaders and victims. With unusual lightness and an openness of meaning, they are passing through the known figures common as social/cultural references and doing so space for interpration, critical thinking and the audience's own positioning is created. 
The Lion's Den is an electrifying performance with strong emotional charge and high intensity. In combination with vivid live music, the created atmospheres are used and sometimes abused for powerful emotinal pressure.
Read a short interview with Sabina Bočková and Johana Pocková:
How was the idea to create your work born?
We wanted to deal with a topic that is not personal and has a wider social reach, and to do it through dance. We felt that the media and its manipulative power was a subject of unrest and uncertainty in us and we wanted to understand what it was like to enter this position and experience the media mechanism.
What does the title of the performance mean?
The Lion's Den is an abyss of uncertainty and ambiguity for us and the spectators. It is an emotionally tense situation in which we have to confront our own attitudes to the topic. In contrast to its biblical image, this is not an eternal divine law that exists independently of humans, but a dialogue between us and the audience, in which the possibility of reflection arises.
Is the theme of manipulation represented more symbolically in the performance or does the viewer find clear references to specific historical figures?
We come at the topic through "what the body does" when manipulated or "what the body does" when manipulating. In the performance, therefore, the viewer can see movements that are based on the visual media environment that we all know, but it is primarily about the physical experience of manipulation and its emotional reach.
What brought you two together?
We met in a project by Miřenka Čechová & Tantehorse called O! Family Therapy, which dealt with the theme of mental illness and was a kind of laboratory for young creators. Through the process and the consultations of our individual characters, we gradually discovered that we had a common path to the creation of movement material and the approach to the search for character. We then collaborated on a second performance called Full Warehouses of Emotions and we really enjoyed and found fulfilment in working together.